Email
admin at living in latin america dot com
art_and_culture
Although it's a few days late, I thought you might like to read about some interesting Bolivian traditions for New Years. Mostly, they involve symbolic things or activities intended to bring good fortune (of various kinds) during the coming year.
Money. Weeks before 31 December, merchants sell wads of fake money on the street. The most popular this year was fake $100 bills. At midnight, you're supposed to take out this money (or real money) and count your cash. The more cash you count, the more luck you'll have w/ money that year.
Underwear. Street venders also start selling large quantities of sexy panties on the streets. It's actually rather interesting/shocking to see conservative cholitas selling red lace thongs on the sidewalk. The most popular colors were red & yellow. If you wear red underwear that night, you'll be lucky in love. Yellow brings money. Pink brings good health.
Grapes. Another tradition is to eat 12 grapes dipped in champagne at midnight. You're supposed to make a special wish for the new year w/ each grape.
Suitcases. If you plan (or hope) to travel during the year, you're supposed to take a suitcase and either walk around the block w/ it or go up and down a flight of stairs. This ensures that you travel safely (and far) during the year.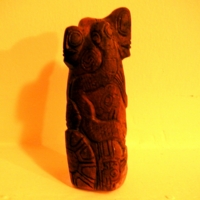 Pacha Mamá. More indigenous traditions involve making an offering to Pacha Mamá (Mother Earth). Specifically, at the Mercado de Hechicería, cholas sell plates specially prepared for burning on small stoves (the fuel is traditionally llama dung) as offerings. The arrangements includes special herbs, fake money, as well as totems for the things you wish for during the coming year (e.g. a frog for money).
Another option is to buy a Pacha Mamá totem for your home. This is what I decided to do. The totem's carved from a stone and has various good fortune symbols carved on it (frog, owl, serpent, heart). My little Pacha Mamá sits on a small ledge in my new apartment, ensuring me wealth, wisdowm, security, and love in 2004.
this is a great website
Posted by anonymus | March 18, 2004 07:45 AM
cel mai naspa site ever
Posted by penis enlargement | July 20, 2004 06:45 PM
live girls
Posted by live sex cams | August 1, 2004 04:44 PM
Post a Comment
Trackback
Recent Stories
Poll
Search
Living on the Planet